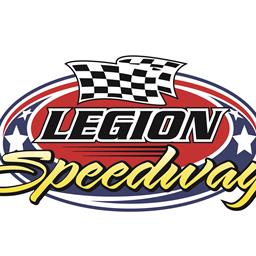 ---
The Sun has Set on Speedweeks 2023 in Daytona
Wentworth NH. - After a few weeks of seeing great friends and learning from the best in the industry I am back home working on many things for Legion Speedway to make our 2023 season happen. With 2022 being our first year in this racetrack business we just want to say it again, THANK YOU to you all for making it happen. We still have so much to learn and will always work harder to keep dirt track racing alive in the state of New Hampshire. I used this trip to learn the most I could and get the most out of my time while there. I had planned on going to Georgia for the All Star Circle of Champions Sprint Car series on my way down , but those events got canceled due to weather. So I called an audible and went to All Tech Raceway in Lake City, Florida. That is where the Lucas Oil Late Model Series were racing and it was great to watch them race again. I went to visit North Florida Speedway also in Lake City, a 4/10 mile or so dirt oval. What a great day , I was able to meet the owner and listen to his story about how he acquired the racing facility. It is very similar to our story here at Legion. Tom is the reason that track is still in operation today. North Florida Speedway is just like Legion Speedway in a warmer location. We wish them well and will be sharing information back and fourth to help grassroots racing. One thing I have learned in this business, if race tracks don't want to work together and help the sport , it will not be around much longer at the small grassroots level. Anyway then it was off to Gainesville Dragway to see some winter testing. Then I went to Ocala and a visit with RumTown Dan and see if he was enjoying his winter in Florida ( he is ) . We went to Marion County Speedway (The Bullring) where there were 59 micros racing in Florida Micro Speedweek. This is a division we are going to try and build up here in NH. We love the Granite State Mini Sprints and will work with that club to see if we can help micro racing here in New England. Legion Speedway competitor Mark Reynolds was racing at the event. I got to meet some great people their too. The track was also going to have some midget racing on the weekend but they got rained out for those events. They have rescheduled those events for this weekend 24th, and 25th. There were three Legion Speedway teams ready to race at the event with the midget class, Brian Anderson, Jimmie Joe, and Mark Cole. The cars are ready to go and hopefully they will race the make up event. Then it was off to Volusia Speedway Park for the ASCoC sprint cars again followed up by the World of Outlaw Sprint Car series. Former Legion Speedway racer and team owner Danny Cook was their working for his new employer of Stenhouse Jr Marshall Racing and driver Sheldon Haudenschild , Danny is the tire guy for the 17 Nos Energy Team. 410 sprint cars at Volusia is just amazing. CT's David Gravel won both nights with the WoO with one show postponed until March. Also went to New Smyrna Speedway for the Whelen Modified Tour 200 lap event. Got to see the great folks from Whelen Engineering which is located in CT, with a plant in NH as well. Simply the best in safety lighting in any form imaginable, including the safety lights at our facility. Also got to see some great wingless sprint car racing with the USAC Amsoil along with the World of Outlaw Late Model Series at Volusia. Again one of the Legion Speedway Alum was there working. This time it was Dylan Cook who is the crew chief for 2022 USAC Champion Justin Grant. Those Cook boys are doing good things on the national sprint car scene, just shows how hard work can get you the top. Keep up the good work . #603Fast. Every night of the 3 weeks were spent racing unless mother nature got involved. It was great to see some friends and make some new ones. The people I met really want to see Legion Speedway do well and stay alive, so that is what makes me work hard to keep it going. I don't really care what others say or do , I know we are doing this for everyone and not ourselves. We can make it work by talking and listening to the right people, some want us to fail but we know the majority want the track open for you all to have a FUN and AFFORDABLE place to visit. I will try and update you all with more from the trip and the schedule is still being worked out hopefully for a release in early March.
Just note we will be racing on Friday nights from June to September with SCoNE, GSMS, Non Wing Sprint Cars, Outlaw Midgets, Modifieds, Pro-4 , 600 non wing micros, and more...
That was just the racing part of the trip, I will write something up on the daytime events with the Promoter Workshops and Sponsorship Meetings I had.
Be kind ,
---
Back to News